Retrofitting a motor mounted VFD
If the pump and motor are not in a hazardous area and the saving of life cycle costs and/or other hydraulic benefits supports the installation of a VFD, in some cases the use of a motor-mounted frequency converter may be the cheapest and easiest way to equip an already installed pump with this technology .
For motor sizes from 1.1 up to 22 kW (1.5-30 hp) motor-mounted VFDs are available which can be mounted on standard three phase AC-Motors without any machining on the motor casing.
They are cooled by the motor fan and are enclosed to IP54/ NEMA 12 and directly wired to the motor terminal box. An example is shown in Figure 10.3.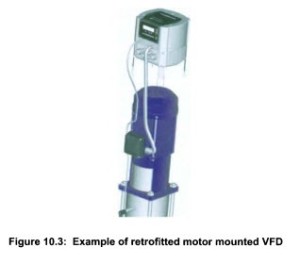 Related posts: