DAM TYPES
There are three principle types of dam used for hydropower projects: embankment dams, concrete gravity dams, and concrete arch dams. The simplest of these and the cheapest to construct is the embankment dam.


Embankment Dam
Embankment dams come in two principle varieties: earthfill embankment dams and rockfill embankment dams. An earthfill embankment dam is made by build- ing a foundation wall that is embedded into the rock below the dam to prevent water flowing beneath it and then creating a core of impermeable clay on top of this (Figure 8.3). Above this the remaining structure is built from earth, nor- mally from the surrounding area. It is the mass of earth and clay that holds the dam in place. A rockfill dam uses rock instead of earth, normally with an impermeable layer on the upstream face of the dam to prevent seepage through the porous core. However, both types of dam can tolerate controlled amounts of seepage.
Both types of embankment dam are vulnerable to overflow of water eroding the dam structure, so each must be provided with a spillway that can release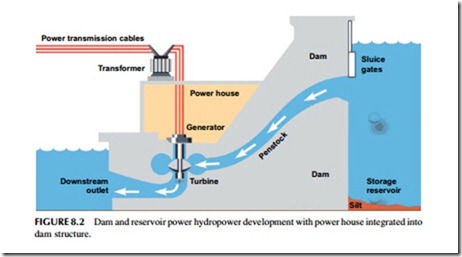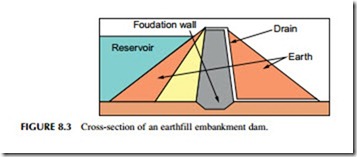 water from the reservoir behind it if the water level becomes too high. These dams have shallow sloping sides to create a large mass and are usually employed in shallowly sloping valleys, creating relatively wide and shallow reservoirs.

Concrete Gravity Dam
The second main type of dam is the concrete gravity dam. Like the embankment dam this relies on its mass to resist the pressure of water, but resistance may also be aided by the concrete structure being bedded into the underlying rock and, where possible, into the sides of the watercourse where it is constructed (Figure 8.4). Concrete dams cannot deform like embankment dams and are vul- nerable to water passing beneath them, which may undermine the structure, so the integrity of the geological strata below the dam is essential.
A variant of the concrete gravity dam is the concrete buttress dam. This has a vertical upstream face but downstream it is supported by massive triangular but- tresses built into the rock below. Such dams require less concrete than a con- crete gravity dam since they use the buttresses to resist the water pressure.

Concrete Arch Dam
The final type of dam is the concrete arch dam. This deploys the principle of the arch to resist the pressure of water. An arch dam can only be built in a steeply sided rock ravine where both the sides of the ravine and the underlying substrata are sound. The arch is built on its back, bowing upstream, with the sides bedded into the rock faces of the side of the ravine (Figure 8.5). The concrete arch dam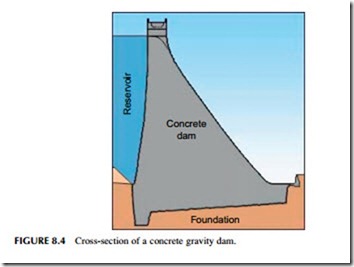 is the most precisely engineered of all dam types and requires less material than other types and where it can be built it is the strongest of dams.
Incoming search terms:
Related posts: