Germany
Biomass is one of the most important and most diverse renewable energy sources in Germany. It is currently the only renewable energy source that can make a lasting contribution to securing the supply of electricity, heat, and fuel. Biomass is used in solid, liquid, and gas form to produce electricity and heat and to manufacture biofuels.
The German government has made a clear commitment to promoting renew- able energy sources and renewable raw materials. Its goals include the following:
• Increasing the share of renewable energy in electricity production to at least 30 % by 2020;
• Using biofuels to achieve greater reductions in GHG emissions in the transport
sector; from 2015, rather than being set relative to energy content, biofuel quotas will be based on net GHG reductions;
• Increasing the share of biofuels in overall fuel consumption to 7 % of net GHG reductions by 2020 (equivalent to approximately 12 % energy content);
• Increasing the share of renewable-generated heat to 14 % by 2020 (National Biomass Action Plan for Germany 2009).
Around 69 % of total final energy from renewable sources was covered by the different types of biomass used to this end in 2007. In Germany, bioenergy (based on final energy consumption) accounted for 3.9 % of total electricity consumption,
6.2 % of total heat demand, and 7.6 % of total fuel consumption. The government estimates that in 2012, bioenergy made up 5.7 % of power consumption, 9.2 % of heat demand, and 5.5 % of fuel consumption. The potential of sustainable domestic bioenergy in Germany would, therefore, seem to be limited to around 10 % of over- all energy supply—at least at current levels of consumption—but Germany could increase those shares by reducing consumption. Based on current energy efficiency achieved with all types of bioenergy use and assuming today's usage distribution between heat (45 %), electricity (30 %), and fuel (25 %), in 2020, domestic bio- mass will only meet a small percentage (10 %) of primary energy demand (National Biomass Action Plan for Germany 2009). However, it is expected that biomass make up nearly 2/3 of Germany's renewable energy consumption by 2020.
The aim of the National Biomass Action Plan for Germany (2009) is to pro- vide a holistic concept to significantly increase the bioenergy share in Germany's energy supply while adhering to sustainability criteria. Bioenergy is an ideal choice in efforts to mitigate the effects of climate change, secure supply, and pro- mote economic development. It also serves in boosting domestic value creation— especially in rural areas. The following must be considered in pursuing this aim:
• Biomass demand for energy production competes with food crops and the many uses of biomass as a raw material; competition for biomass also occurs between the various types of energy production;
• Secondary products from bioenergy production play a key role in animal and
human food supply;
• The various technologies involved in bioenergy use are only partially available on the market and are for the most part not yet competitive and harbor great potential for improved efficiency;
• Considerable research effort is needed in the bioenergy sector and is to be promoted under the German government's high technology strategy;
• Greater use of bioenergy must enjoy broader public acceptance;
• Increased biomass production for energy supply can have both positive and negative economic and social impacts. This applies to Germany and to the rest of the world as well;
• An increasing number of developing countries are exporting bioenergy resources. Greater use of bioenergy in Germany must thus be seen in the con- text of sustainable development.
Despite of the above, the use of bioenergy should be further expanded in the future. The technical potential required for this is available in Germany. In the agricultural and forestry sector, part of the 17 million hectares of agricultural land (approximately 12 mil- lion hectares of arable land and approximately 5 million hectares of grassland) and of the 11 million hectares of woodland are available for biomass production. By far, the most important source of bioenergy in Germany is wood. Roughly, 40 % of German timber production is used as a source of energy, with the rest used as material. Germany is also the leading biogas market—in 2010, more than 60 % of Europe's electricity from biogas was produced in the country, with further dynamic growth to come. About one quarter of Germany's wood production (lower quality line of production) is used for generating energy; approximately, three quarters are used as material. Waste wood and used wood are also used for energy production. Model calculations by the Federal Research Centre for Forestry and Forest Products have shown that there are reserves to expand the use of wood without impairing sustainable forestry.
In addition to forestry, agriculture also plays an important role in producing biomass for energy recovery. Already in 2007, a total of 1.75 million hectares, that is more than 10 % of agricultural land, were used to grow energy crops in Germany, with a focus on oilseed rape cultivation for the production of biodiesel and the provision of substrates for biogas production. There is also potential to expand agricultural biomass production to a certain extent. The results of various studies show that from 2020, between 2.5 and 5 million hectares of agricultural land can be used for the cultivation energy crops.
In addition to the biomass provided through forestry and agriculture, residual substances and wastes of biogenic origin are available for energy recovery. This includes in particular waste and used wood, biowaste, sewage sludge/sewage gas/ landfill gas, slurry/solid manure, and straw. Together with less significant residual substances and wastes, this adds up to an energy potential of around 550 PJ. Tapping this still largely unused potential must be given special attention in the future. Energy recovery from biogenic residues and waste helps to solve or mitigate the problem of the conflicting uses of biomass as an energy source or material.
Energy from biomass has become an important economic branch in Germany. Some 96,100 people were employed in the bioenergy sector in 2007, in particular in agricultural and forestry raw material production and the newly set up industry of producing fuels such as pellets, wood chips, or biogas from biomass. The total turnover for the entire bioenergy sector amounted to €10.23 billion in 2007.
As a result of the significant increase in the construction of biogas installations, a total of 23.6 TWh of electricity was generated in 2009 from solid, liquid, and gaseous biomass (including production from biogenic waste landfill and sewage gas). In addition, some 3.5 million tons of biofuels were consumed, and the total number of pellet-fired heating systems climbed to 125,000.

Solid Biofuels
In 2010, a total of 261 biomass-fired power plants were operating in the country. CHP plant with an overall installed electrical capacity of 1,240 MW and a potential yearly electricity generation of 8.4 TWh have been under operation in Germany. Additionally, another 8 plants with altogether 250 MW are installed within the pulp and paper industry providing roughly 1 TWh. Additionally, heat and electricity is generated from the organic waste fraction. Assuming a similar development as in recent years, approximately 4.8 TWh of electricity has been produced in existing waste incineration plants, mostly based on a coupled process (i.e., CHP). In 2010, approximately 14.2 TWh of electricity as well as a consider- able amount of heat has been produced from solid biomass in Germany. The plants subsidized based on the German electricity feed-in act have used about 7.7 million tons of solid biomass. Around 56 % of these plants use natural wood only. This sums up to approximately one-third of the overall used solid biomass for electric- ity generation. The average installed electrical capacity of these 145 plants (i.e., scarcely two-third of the overall installed plants) is 2.9 MW.

Liquid Biofuels
In 2010, approximately 1,850 engine-based CHP units using vegetable oil have been under operation. With an overall installed electrical capacity of 415 MW within these units, about 2 TWh of electrical energy has been provided to be fed into the grid. Additionally, the heat is used to a certain extend allowing for an economic viable operation.

Gaseous Biofuels
By the end of 2010, about 5,700 biogas power plants with an installed electrical capacity of 2,130 MW have been under operation in Germany. These plants allow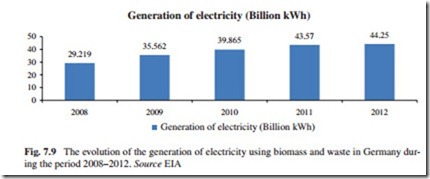 for an electricity generation of roughly 15.8 TWh or 7.7 % of the total electric- ity generated in the country in that year; in spite of the newly installed plants, the electricity feed-in has only been at around 14.7 TWh. Additionally, 0.9 TWh of electricity has been produced in roughly 700 sewage gas plant (overall installed electrical capacity of 160 MW). Overall, approximately 16.6 TWh of electric- ity has been provided based on an anaerobic fermentation of organic material in Germany.

Generation of Electricity Using Biomass and Waste
The evolution of the generation of electricity using biomass and waste in Germany during the period 2008–2012 is shown in Fig. 7.9. In 2010, the total electricity generated using biomass reached 13.1 %.
According to Fig. 7.9, the generation of electricity using biomass and waste in Germany during the period 2008–2012 increased 15.1 %. It is expected that the use of biomass and waste for the generation of electricity in Germany will continue increasing during the coming years and to make a vital contribution to Germany's future energy supply. The government considers that biomass could be able to meet up to 23 % of German demand for heat, electricity, and fuels in 2050. Wood, energy crops, straw, and biogas offer the potential for a major share of energy in Germany to be sustainable generated.
Related posts: