COAL RESERVES
Table 3.3 shows the global proven coal reserves, which at the end of 2010 amounted to 860,938 Mtonnes. The greatest reserves are in Europe and Eurasia with 304,604 Mtonnes, followed by the Asia-Pacific region with 265,843 Mtonnes and North America with 245,088 Mtonnes. Reserves in the Middle East and Africa are small by comparison at 32,895 Mtonnes, and those in Central and South America even smaller at 12,508 Mtonnes.
When these are subdivided into types as shown in the table, Europe's reserves can be seen to be composed primarily of lower-quality sub-bituminous coals and lignite. North America has relatively higher quantities of the high- quality coals but the greatest reserves of these are in the Asia-Pacific region.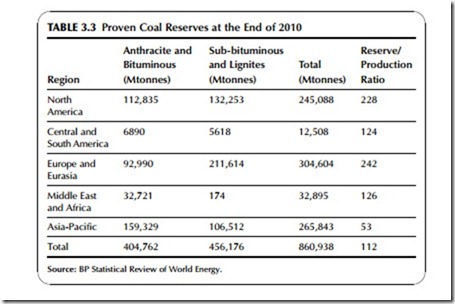 While coal is generally considered to be widely available, five countries hold 75% of all proven coal reserves: United States USA (28%), Russia (18%), China (13%), Australia (9%), and India (7%). At the current rate of consumption the world's proven coal reserves would last for another 112 years, as shown in Table 3.3. However, this varies from region to region with European and Eurasian reserves likely to persist the longest, while those in the Asia- Pacific region might only last for a further 57 years if current production rates continue. However, in all regions proven reserves represent only a portion of the coal that actually lies in the ground, and these potential reserves are likely to be much higher than those shown in Table 3.3.
The leading coal-producing nation is China, which mined 3520 Mtonnes of hard coal in 2011. The United States, the second largest producer, mined only 993 Mtonnes, and India 589 Mtonnes. Other important coal-producing coun- tries include Australia (416 Mtonnes in 2011), Indonesia (325 Mtonnes), South Africa (255 Mtonnes), and Russia (334 Mtonnes). The main European coal pro- ducers are Germany (189 Mtonnes) and Poland (139 Mtonnes). According to the World Coal Association most coal is consumed in the country of origin and only around 16% is traded internationally. However, this represents an important source of energy for countries, such as Japan, South Korea, and Taiwan, which have virtually no reserves of their own. China, in spite of its mas- sive coal production, is also a net importer of coal. Meanwhile, the major exporting nations are Australia, Indonesia, and Russia.
The cost of transporting coal means that trade routes are normally kept as short as possible. So, for example, Australian and Indonesian coal is most often sold to other Asia-Pacific countries, such as Japan, South Korea, and China. Russia and South Africa, another important coal-exporting nation, trade mostly with Europe, while U.S. coal exports to other countries in the Americas.
Related posts: