Application and Use
Transformers used for converting energy can be classified into five categories according to their application and use.

Distribution Transformers
A distribution transformer has a rating from 3 to 500 kVA. There are various types of distribution transformers, depending upon the cooling and insulating medium, service application, and mounting method. Transformers with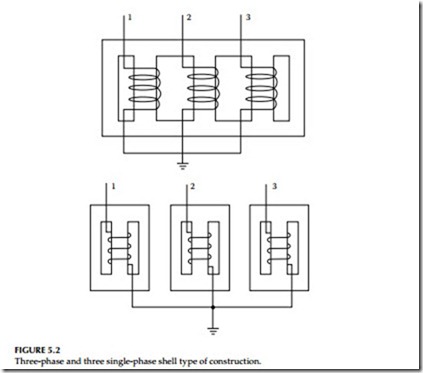 voltage ratings of as high as 34,500 V are available. Virtually all distribution transformers are self-cooled.

Network Transformer
This is considered a distribution transformer per National Electrical Manufacturers Association (NEMA) standards and has characteristics similar to the distribution transformer. However, its application is different. It has special and severe requirements for network service, such as ventilation, vault size, submersibility, and short-circuit requirements. Network transformers can have kVA ratings in excess of 500 kVA and primary voltage up to 23 kV.

Arc-Furnace Transformer
The arc-furnace transformer is a special purpose transformer used in process industries. It is a low-voltage and high-amperage transformer and is specially braced to withstand mechanical stresses caused by fluctuating current requirements. Due to distorted waveform because of arcs, it has extra winding insulation.

Rectifier Transformer
The rectifier transformer is also a special purpose transformer used in the rectification of AC to direct current (DC) applications in the process industry. These transformers are specially braced to withstand mechanical stresses produced by high currents.

Power Transformer
The power transformer has a rating in excess of 500 kVA and is primarily used in transforming energy from generating stations to transmission lines, from transmission lines to distribution substations, or from utility service lines to plant distribution substations.
Related posts: