Romania
In terms of the use of renewable energy sources for the generation of electric- ity objective of gross electricity consumption, Romania is on target. In 2004, the majority of all electricity was generated through large-scale hydropower. According to the Ministry of Environment, the potential of the country in the production of green energy is as follows: 65 %—biomass, 17 %—wind, 2 %—solar, 4 %—small hydro, 1 %-voltaic geothermal and 11 % others.
Romania introduced the following measures to promote the use of renewable energy sources for the generation of electricity:
• A quota system, with tradable green certificates for the use of new renewable energy sources for the generation of electricity, has been in place since 2004, with a mandatory quota increase from 0.7 % in 2005 to 8.3 % in 2010–2012;
• TGCs are issued to electricity production from wind, solar, biomass, or hydro-power generated in plants with less than 10 MW capacity;
• Mandatory dispatching and priority trading of electricity produced from renew- able energy has existed since 2004.
The NREAP for Romania expects the renewable share to increase, but stay below the trajectory determined by the renewable directive. As Romania intends to reach its target level only in the second year of the two-year periods, it averages will be below target. Nevertheless, the final 2020 target of 24 % renewable is considered achievable.
Wind power is expected to benefit from a spectacular growth rate up to 2013, adding over 600 MW net a year. The net annual increase slows down from 2014 onwards, especially from 2016. Overall, however, the Romanian action plan expects some 4,000 MW of capacity to be installed by 2020. This would cover almost 11.5 % of total electricity consumption and position wind as the main renewable power technology after hydropower.
The Romanian NREAP's projections for wind power are above EWEA's scenario, which estimates between 3,000 MW and 3, 500 MW of cumulative capacity meeting between 7.7 and 9 % of electricity consumption by 2020. However, considering the wind and land resources, investor interest and banking on the final adoption of the new renewable law early in 2011, the action plan's targets do not appear overly ambitious. The Romanian Wind Energy Association has a more ambitious scenario for 2020, reaching 5 GW of installed wind capacity.
Romania has attracted investors in its renewable energy industry, including IBERDROLA SA (IBE), Portugal's biggest utility EDP (EDP), Germany's biggest utility EON AG and Italy's ENEL SA with an incentive plan for wind investments.
It wants to attract €5 billion in wind power investments through 2020 under an incentive program adopted by the government. CEZ, the Czech Republic's largest power producer, is one of the biggest investors in wind energy in Romania. It is building a €1.1 billion wind farm in the Constanta region near the Black Sea and so far has 388 MW operational. The utility plans to build the entire wind farm capacity of 600 MW before 2014.
As of 2012, and according to EWEA Wind in Power 2012 European Statistics, there was an accumulative installed capacity of 1,905 MW of wind power in Romania, up from the 7 MW installed capacity in 2007. At the end of 2013, the wind power capacity installed in the country reached 2,599 MW, which represents an increase of 36.5 % with respect to 2012. The major increase in wind power capacity was reached in 2010 (3,200 %). In that year, in Romania was installed 923 MW, which represents an increase of 94 % of the total wind power capacity in our country. Until December 2010, Romania added around 440 MW to its installed wind capacity from two wind farms: Fântânele-Cogealac and the EDP Pes¸tera (Lupoaie 2008). The Fântânele-Cogealac wind farm has been completed in 2012 and at the time was the largest in Europe (Bakewell 2012). Other wind farms projects have been presented or are under construction. In 2013, the number of wind farm operating in the country was 59.
Undoubtedly, Romania has been a leader among emerging markets of Europe in 2012 in terms of new installed wind power capacity positioning at number five in Europe, after Germany, the UK, Italy, and Spain, according to the report "Wind power and other renewable energy in Romania" 2013, elaborated by TPA Horwath Romania and Schoenherr and Associates SCA, and also 10th place among the most attractive countries in the world in investments in wind energy, surpassing countries like Italy, Brazil, Japan, Australia, or the Netherlands, according to the Renewable Energy Country Attractiveness Index ranking, published by Ernst & Young (see Table 5.28).
Romania has a wind power potential of around 14,000 MW (Mediafax 2007) and an energy-generating capacity of 23 TWh. Analyzing the development of wind farms in the course of completion, for 2013 is foreseeable the installation of approximately of additional 617 MW, estimating that Romania will be able to secure from 8 % the wind energy of total gross energy consumption of the country.
According to Energia Eoliana in Europa, the country's wind power capacity that can be assimilated by the national transport grid is between 3,000 and 9,000 MW, while only in the last two years the total power of the requests for connecting to it was about 22,800 MW. The Dobruja region, which consists of Constanţa and Tulcea counties, has the second highest wind potential in Europe (Hriţcu 2009).
According to the President of the Romanian Wind Energy Association, it has been estimated that 9 % of the electric power production in Romania will come from wind energy, following in 2014 to most probably reach up to and even exceed 10 %. Moreover, the investments in the renewable field in Romania will be €4 billion, the largest investment wind power project after 1989. The wind energy target for 2020 is shown in Table 5.29.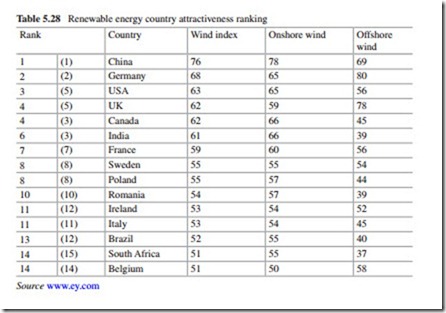 Generation of Electricity Using Wind Energy
The evolution of the generation of electricity using wind energy in Romania during the period 2008–2012 is shown in Fig. 5.43.
According to Fig. 5.43, the generation of electricity in Romania using wind energy during the period 2008–2012 increased 584.6-fold. It is expected that the generation of electricity in the country using this type of energy source will con- tinue increasing during the coming years.
Related posts: