DIRECT STEAM POWER PLANTS
Dry steam geothermal reservoirs are extremely rare. Where they exist the steam, with a temperature of 180–350 oC, can be extracted from the reservoir through a borehole and fed directly into a steam turbine (Figure 12.3). Steam from several wells of this type will normally be fed to a single turbine to allow an economically large turbine to be used. The pipes that carry the steam from the well heads to the turbine contain various filters to remove particles of rock and any steam that condenses en route. This is the configuration that was used in the very first geothermal power plant in Larderello, Italy, in 1904.
The steam turbine in a direct steam geothermal plant is usually a standard reaction turbine. Unit size in modern plants is typically between 20 MW and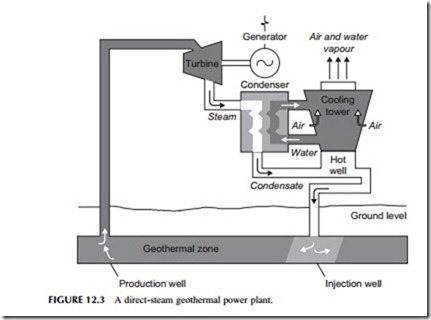 120 MW. As a result of the relatively low steam temperature and the small size of the turbines, efficiency is generally low at around 30%.
In some cases the steam exiting the turbine may be released directly into the atmosphere. However, the steam usually contains between 2% and 10% of other gases such as carbon dioxide and hydrogen sulfide. Under these circumstances the exhaust from the steam turbine must be condensed to remove the water and then treated to remove any pollutants such as hydrogen sulfide before release into the atmosphere. At the Geysers plant in the United States, the hydrogen sulfide is converted into sulfur as a by-product of the treatment and this sulfur is sold. Condensing the steam also extracts more energy, thereby increasing plant efficiency.
Ideally the geothermal fluid should be returned to the underground reservoir but it is often more economical to release the gas and dispose of the water produced as a result of condensing the steam from the turbine at the surface. Carbon dioxide emissions from such plants could become an issue in the future and, depending on the amounts involved, it may be feasible to capture and either reinject or sequester the carbon dioxide generated from such a plant. In general, however, carbon dioxide emissions are low compared to fossil fuel sources. In the United States, for example, typical emissions from a geothermal plant are equivalent to 91 gCO2/kWh. For fossil fuel resources the equivalent range of emissions is between 600 gCO2/kWh and 1000 gCO2/kWh according to the World Energy Council. Continual removal of underground fluid without replenishment eventually leads to a depletion in the quality of fluid available from the reservoir. At the Geysers geothermal field in southern California, urban waste water has been pumped into the underground reservoir in an attempt to maintain and eventually boost output from the resource.
Related posts: