Standard Operating Levels and Line-Up Tones
Irrespective of the type of meter employed, it should be pretty obvious that a meter is entirely useless unless it is calibrated in relation to a particular signal level (think about it if rulers had different centimeters marked on them!).
Three important line-up levels exist (see Figure 27.6):
PPM4 = 0 dBu = 0.775 V rms, used by United Kingdom broadcasters. 0VU = +4 dBu = 1.23 V rms, used in commercial music sector.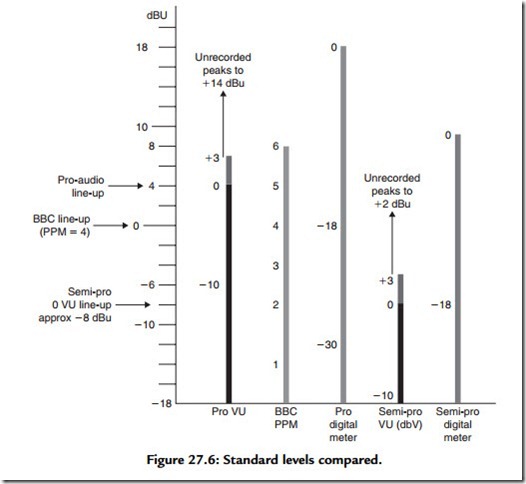 Digital Line-Up
The question of how to relate 0 VU and PPM 4 to a digital maximum level of 0 dBFS (for 0 dB relative to full scale) has been the topic of hot debate. Fortunately, the situation has crystallized over the last few years to the extent that it is now possible to describe the situation on the basis of widespread implementation in the United States and with European broadcasters. Essentially,

Sadly, these recommendations are not consistent. And while the EBU recommendation seems a little pessimistic in allowing extra 4-dB headroom above their own worst-case scenario, the SMPTE suggestion looks positively gloomy in allowing 20 dB above the alignment level. Although this probably reflects the widespread, although technically incorrect, methodology, when monitoring with VUs, of setting levels so that peaks often drive the meter well into the red section.
---
Related posts: