Load Factor
The load factor on an electric utility company bill is a product of the peak demand and energy usage. It usually is calculated and applied to the customer's bill each month. Reducing either the peak demand or energy usage levels, or both, will decrease this added cost factor. Reducing power factor penalties also will help to reduce load factor charges.

Power Factor
Power factor charges are the result of heavy inductive loading of the utility company system. A poor PF will result in excessive losses along utility company feeder lines because more current is required to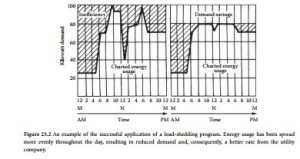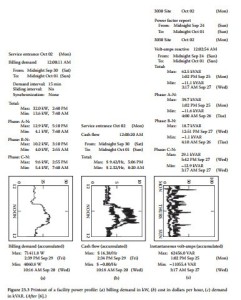 supply a particular load with a low PF than would be demanded if the load had a PF close to unity. (The technical aspects of power factor are discussed in Section 3.2.) The power factor charge is a penalty that customers pay for the extra current needed to magnetize motors and other inductive loads. This magnetizing current does not show up on the service drop wattmeter. It is, instead, measured separately or pro- rated as an additional charge to the customer. The power factor penalty sometimes can be reduced through the addition of on-site PF correction capacitors.
Power factor meters are available for measurement of a given load. It is usually less expensive in the long run, however, to hire a local electrical contractor to conduct a PF survey and recommend correction methods. Possible sources of PF problems include transmitters, blowers, air conditioners, heating equipment, and fluorescent and high-intensity discharge lighting-fixture ballasts.
Related posts: