Greece
Following the EU binding policies related to the production of electricity from renewable sources and in order to establish security and diversification of its energy supply as well as to ensure environmental protection and sustainable development, Greece is promoting the use of different renewable energy sources for electricity generation. This type of sources has started to play an increasingly important role in Greece's energy sector. Renewables account for approximately 5 % of electricity production, without including the 5 % contribution of hydro- power plants. The present investment framework calls for a striking increase in production from wind, solar, geothermal, and biomass/biofuels energy, which are expected to contribute increasingly as a transport fuel (Kottari 2014).
Greece's target is to produce electrical energy from renewables at a 40 % share of the total electrical power by 2020. The development of solar energy in Greece targets economic growth and job creation, while within the context of the debt cri- sis, solar power plant development has been presented by the media as a Greek attempt to use its natural assets in order to attract foreign investments, to stimulate growth, and to create job opportunities.
Solar Power Installed Capacity
Solar power installations in Greece more than doubled in 2012, driven by the EU's highest tariffs even as the government planned a tax on revenue for existing projects. New solar PV capacity was 912 MW compared to 425 MW in the previous year, reaching 1,536 MW, according to figures from the Hellenic Association of PV Companies. The growth of new installed solar energy capacity in Greece dur- ing 2013, according to the latest figures from the Hellenic Transmission System Operator SA, was 649 MW, and another 50 MW of rooftop solar PV installs under 10 kW in size. In total, the country ended 2013 with 2,420 MW of solar power capacity installed on the mainland. The Hellenic Electricity Distribution Network Operator SA estimates that there was a further 148.5 MW on the non-intercon- nected Greek islands.
According to Fig. 4.13, it is expected that for 2020, the solar PV sector occu- pies the third position with respect to the total capacity installed reaching 2.2 GW.
Greece retroactively cut its FiT by around 44 % effective from June 1, 2013, and applied to all systems installed from February of that year. A moratorium on approvals for larger projects was also introduced, and it would appear the backlog of already approved projects is now reaching its end.
The government set a target of 2.2 GW installed solar power capacity by the year 2020 (through the EU-mandated NREAP for Greek) and an intermediate tar- get of 1.27 GW by the year 2015. The residential segment is gaining market share, and from 4 % in 2010, it will probably represent 10 % of the market before 2014. The main specificity of the Greek solar PV sector is the existence of local manufacturers who contribute to job creation in the country, and to a certain extent, the willingness of the main power utility company to invest in solar PV (it is planning a new 200 MW solar power plant).
According to Business Green, the country has even touted an investment of €20 billion in solar power, which is part of the government's plan to deliver 100 % of its energy needs through renewable sources by 2050. The overall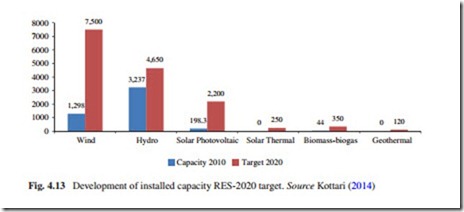 investments needed in the energy sector has been estimated in €22.2 billion for the period 2010–2020. From these, €16.5 billion will go to new renewable energy capacity, nearly €7 billion to wind, €5.5 billion to solar PV, €1.6 billion to pump storage for supporting the variable renewables production, €1.1 billion to solar heating and cooling, and €0.5 billion to biomass and biogas project. An additional budget of €5 billion will be needed for grid reinforcement and interconnections.
For the Geek government, investment in renewable energy was a national priority to boost economic growth. Project Helios is the Greek government's massive initiative to ramp up solar power generation of electricity from 206 MW to 2.2 GW by 2020 and up to 10 GW by 2050. The country is aiming to become the EU's largest exporter of renewable energy for 2050. The government hopes that this plan will attract the investment needed, and Greece can then transform itself into an exporter of solar power and help other EU countries to meet their renewable targets. Greece's Energy and Climate Change Minister also launched a draft renewable energy plan, which will ensure that the country meets EU targets to deliver 80 % emissions cuts by 2050.
Greece has in its hands the unique opportunity to demonstrate that renewable energy technologies like solar PV are becoming competitive in the near future through European cooperation. It could be the showcase project on the way to a truly integrated European market for electricity from renewable sources, while simultaneously helping the Greek economy to recover.

Electricity Generation Using Solar Energy
The evolution of the generation of electricity in Greece using solar energy during the period 2008–2012 is shown in Fig. 4.14.
According to Fig. 4.14, the generation of electricity in Greece using solar energy during the period 2008–2012 increased 247.8-fold. It is expected that the participation of solar energy in the energy mix of the country will continue increasing during the coming years, but a lower rate.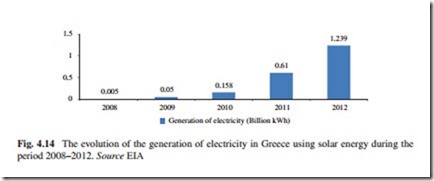 Related posts: