Decommissioning of Nuclear Power Plants and Other Nuclear Facilities
According to Nuclear Technology report for 2014, as of December 2013, a total of 149 nuclear power reactors worldwide had been permanently shutdown. In total, 16 nuclear power reactors have now been fully dismantled; a further 52 units are in the process of being dismantled; 59 units are being kept in a safe enclosure mode or are awaiting the commencement of the final dismantling; three units are entombed; and 17 units do not yet have a specified decommissioning strategy. Approximately 40 % of the world's totals operating nuclear power reactors are now more than 30 years old and about 7 % of these are more than 40 years old. Although some may continue to operate for up to 60 years, many will be retired from service in the next 10–20 years.
Except in special cases, e.g., graphite-moderated reactors for which waste disposal routes are not yet in place, the generally preferred decommissioning strategy in most EU member states is "immediate dismantling," i.e., the radiological inventory is removed from the site and regulatory control is withdrawn within 15–25 years after shutdown.
Of the 480 research reactors and critical assemblies that have been shutdown permanently, 70 % have already been fully decommissioned. Several hundred other nuclear facilities, such as radioactive waste management or fuel cycle facilities, have been decommissioned or are undergoing dismantling. EU member states with large nuclear power programs, i.e., those that began nuclear power production in the 1950s and 1960s, have made significant progress in dealing with the legacy from their early activities. These countries have developed technologies and expertise for implementing decommissioning and environmental remediation programs. This expertise is located in regulatory bodies, implementing organizations, and in a range of engineering organizations that provide supply chain services to the owners of the facilities and sites to be decommissioned or remediated.
However, several decades of further effort are still needed for full remediation of major uranium production sites and sites used for early research activities in the European region. Examples of programs where substantial progress with active decommissioning of nuclear power plants have been achieved during 2013 are given as follows:
• France: Decontamination and removal of steam generators from the Chooz-A nuclear power plant and their disposal at the French disposal site for very low level waste at Morvilliers;
• Spain: Completion of segmentation and removal of reactor internals from the
Jose Cabrera nuclear power plant;
• UK: Decontamination of spent fuel ponds at Bradwell nuclear power plant in preparation for entry into safe enclosure by 2015.
In EU member states without major nuclear energy programs, the level of progress has often been much slower. The reasons for this include lack of appropriate legal, policy and regulatory frameworks and associated funding schemes, lack of appropriate technology and expertise, and inadequate mechanisms for engagement with affected stakeholders.
If no repository is available, high-level radioactive nuclear waste must be processed and stored in the nuclear power plant site until the appropriate repository is available. Ideally, the specifications for treatment and packaging of high-level radioactive nuclear waste will be consistent with the regulatory requirements for transport, storage, and eventual disposal of dangerous wastes. These specifications define the radiological, mechanical, physical, chemical, and biological properties of the waste and of any package. The construction and operation of a storage facil- ity will involve costs that cannot be neglected. These costs are likely to be highly dependent on the type of facility, the type, and quantity of waste arising from decommissioning, as typified by the difference in the characteristics and quantities of waste arising from light water and gas-cooled power reactors. Furthermore, if such storage areas are located and remain on the site of the nuclear facility being decommissioned, then they will prevent the full release of the site from nuclear regulatory control and block its availability for unrestricted use. In particular cases where the volume of decommissioning waste is large, as in the case of graphite- moderated power reactors, for example, this situation may discourage immediate dismantling and encourage instead the option of safe enclosure until a waste disposal facility is available. In some cases, national or centralized storage facilities are built, which allow the operator to carry out the decommissioning up to the release of the site for unrestricted reuse.
One of the important issues that need to be in the mind of government authorities and the nuclear industry in charge of the operation of a nuclear power plant is to keep good records and precise information about of all nuclear facilities under their control. Relevant knowledge and technical information about nuclear facilities is of prime importance for their future safe decontamination and dismantling. Conservation of such knowledge is a key element that needs to be included in any decommissioning strategy.
In some countries of the European region, a great experience has been accumulated regarding the implementation of decommissioning strategies during the shutdown process of different nuclear facilities. In Germany, for example, 27 nuclear power reactors have been permanently shutdown (see Table 8.3). Two of the nuclear power reactors, 21 research reactors and critical assemblies, and four of the fuel cycle facilities have now been decommissioned, and the sites of the two nuclear power reactors restored and released from regulatory control. The other nuclear power reactors are currently in safe enclosure or are being dismantled, and their sites will be returned to a condition suitable for unrestricted reuse.
In Belgium, about half of the cells in a major fuel reprocessing plant have been emptied and decontaminated and the other half is currently in the process of being brought to the same state. A small prototype PWR is in the process of being dis- mantled and decontaminated, and laboratories used previously for nuclear research and development have been decontaminated, released from radiological control and are now being used for conventional research.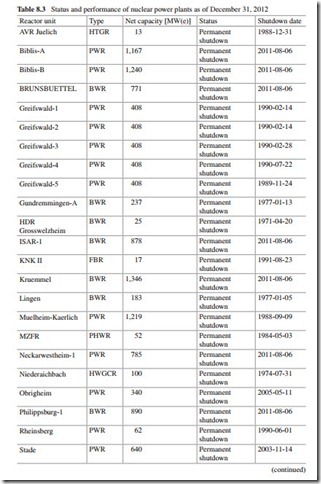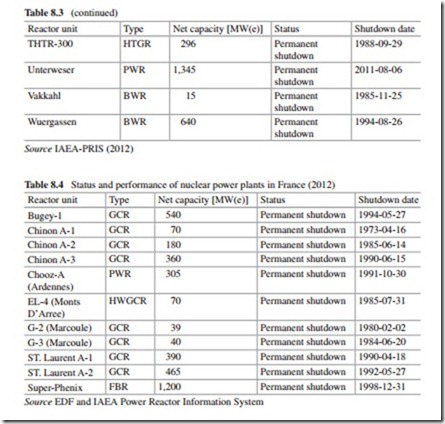 Decommissioning programs implemented in France and in the UK, although more extensive in scale, are broadly similar in principle to the one implemented in Belgium. In France, 11 nuclear power reactors have been shutdown until 2012 (see Table 8.4).
In the case of the UK, 29 nuclear power reactors were also shutdown during the period 1950–2012 (see Table 8.5).
In Italy, four nuclear power reactors were shutdown after the Chernobyl nuclear accident (see Table 8.6). In the case of the Netherlands, one nuclear power reactor was shutdown in the same period as well as three nuclear power reactors in Sweden. In Eastern Europe, the following nuclear power reactors were shutdown during the period 1950–2007: four in Bulgaria; three in Slovakia; five in Russia; and four in Ukraine.
Lastly, it is important to note that other European countries with relatively young nuclear power programs have no decommissioning programs underway and have no plans for the adoption of a decommissioning strategy for the following years (Morales Pedraza 2012).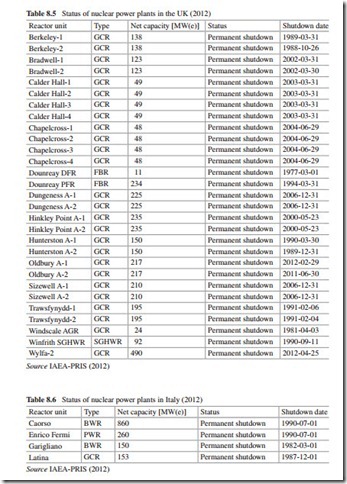 Incoming search terms:
Related posts: