Austria
Austria intensively utilized the biomass available to it, thanks to its extensive forests, and has even been doing so since before the industrial revolution. Undoubtedly, the most significant source of renewable energy in the country is biomass, followed by hydropower. With 47 % of the Austrian territory being covered by forests, the share of woodland is one of the highest in Europe. Consequently, the use of biomass has been extensively in Austria.
The Austrian government sees increased use of renewables in general and bio- mass in particular as contributing to the three main objectives of energy policy by:
• Enhancing security of supply through the diversification of energy supply sources and the reduction of dependence on external energy sources;
• Enhancing competitiveness through the development of new and efficient technologies and providing economic growth and employment opportunities in rural areas;
• Promoting environmental sustainability through the reduction of GHG emissions and an increase of the share of renewable energy sources, while respecting other environmental policy objectives.
Austria adopted or reaffirmed targets for renewables in 2006, which were set as to raise the share of renewables in primary energy demand, and in particular to raise biomass utilization, but without setting a numerical share.
In 2008, there were about 1,100 biomass district heating plants in operation in Austria with an installed power of about 1,300 MW. Their power ranges from very small plants (50–200 kW) for the supply of a group of houses or single big buildings to medium-scale plants (200 kW–2 MW) for the supply of villages, parts of small towns, industrial, and big buildings, to big plants in the range of 2–20 MW for the supply of towns and cities. Some of the big plants are addition- ally equipped with a CHP which produces electricity.
It is important to highlight that the use of CHP system in Austria is feasible when the electricity is used in industrial processes to substitute for purchased electricity, or when it is supported by special feed-in tariffs or other incentives.5 In 2008, a total of 519.6 MW based on biomass was connected to the Austrian grid, of that 91.4 MW from biogas, 26.2 MW from liquid biofuels, and the remaining 402 MW from solid biomass. Electricity production amounted to 1.9 TWh from solid biomass (including waste), 503 GWh from biogases, and 36 GWh from liquid biofuels. In 2012, the total electricity generated using biomass and waste reached 6.926 billion kWh (Schilcher and Schmidl 2009).

Generation of Electricity Using Biomass and Waste
The evolution of the generation of electricity using biomass and waste in Austria during the period 2008–2012 is shown in Fig. 7.3.
According to Fig. 7.3, the following can be stated: The generation of electric- ity using biomass in Austria during the period 2008–2012 increased 45.4 %. It is expected that the use of this type of energy source for electricity generation will continue increasing during the coming years.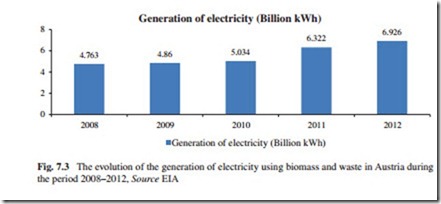 Related posts: