STEAM TURBINES
A steam turbine is one of the most reliable units for power generation available. Large utility steam plants designed exclusively for power generation have efficiencies up to 45%, but smaller units employed for CHP applications generally provide efficiencies of 30–42%. These turbines are usually simpler in design too. Steam turbines are available in virtually any size from 50 kW to 1300 MW.
A steam turbine cannot generate electricity without a source of steam. This is normally provided by a boiler in which a fossil fuel or biomass fuel is burned. This makes steam turbine CHP extremely flexible because the power and steam generation are essentially independent of one another. A steam turbine will normally be used in a CHP system only where there is a demand for high-quality, high-pressure steam for some industrial process.
There are a variety of ways of configuring a boiler/steam turbine system to provide both electrical power and heat. One method is to take heat directly from the boiler to supply heat to whatever process needs it with any surplus being directed to a steam turbine to generate electricity. Such an arrangement normally will be economically effective if most of the steam is being used by the industrial process; the addition of a small steam turbine unit then allows limited power generation when excess steam is available.
A more common configuration utilizes what is known as a back-pressure steam turbine (Figure 6.3). In this configuration the steam from the boiler goes directly to the steam turbine, which extracts a part of the energy contained within it. The steam exiting the turbine, still at an elevated temperature and pressure, is then directed to the process where heat is required. This will normally be used when lower-pressure and lower-temperature steam is required, but by balancing the size of the turbine and boiler, steam temperature and pressure can be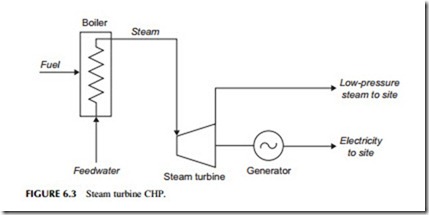 tailored to suit the process in question. Back-pressure steam turbine CHP systems are widely used in industry.
A third approach is to feed the steam from the boiler into a condensing turbine (one that condenses steam to water at its exhaust to create the largest temperature and pressure drop possible), but then extract steam from a point partway through the steam turbine, where steam temperature and pressure match the heat requirement. Turbines designed for operation in this way are called extraction steam turbines and are commonly found in industrial plants.
These different configurations allow for considerable flexibility when designing a steam turbine–based CHP system. Systems can be more complex if an industrial facility has several sources of steam. These may feed surplus steam into different stages of a single steam turbine to extract the most energy possible.
Steam turbine CHP systems will generally be relatively large, from a few mega- watts to perhaps hundreds of megawatts. Most often such plants will be associated with a single industrial plant or process. Depending on the fuel burned in the plant boiler to generate steam, emission control systems will be needed to limit atmospheric pollutants. Steam turbine CHP plants may burn coal or biomass but they will often burn natural gas too, which requires less by way of emission control.
Related posts: